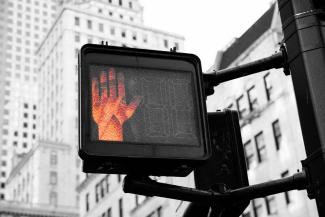 Personal Finance Mistakes to Avoid
There are hundreds of articles on the so-called "biggest financial mistakes" that people make and some tips on avoiding them. We're used to seeing common examples of how peoples' activities, like overspending or making minimum payments, may get people in trouble. These lists of mistakes could fill a book, but many are rooted in a failure to adhere to basic financial guidance. Here are tips for some of the more common mistakes we see.
Not Setting Realistic Financial Goals
In finances and life, deliberate action and highly-specific goals are often considered essential to achieving anything. Whether it's paying off debts, retiring when and how you want, or helping your child pursue higher education, long-term goals usually need a clear, definable action plan with several smaller action steps to guide you along the way.
Not Saving for Emergencies
According to a 2021 survey by The Federal Reserve, more than a quarter of adults surveyed said that they wouldn't be able to cover a $400 emergency expense in full. Nearly 17% of adults will experience an unexpected illness or accident that leaves them unable to work for a period of their working life. Life happens. Water heaters break, cars stop running, and people lose their jobs. Unexpected expenses like these are believed to be one of the biggest reasons people spiral into debt. Consider building an emergency fund into your budget so if something happens, you're better prepared.
Not Monitoring Your Credit
Credit often plays a role in several points in your life - buying a house or car, financing a business, etc. Your financial life is shaped by your credit score, which can change daily. A point change in either direction may translate to hundreds or thousands of dollars in savings or costs. But one of the biggest reasons to monitor your credit is the ever-growing threat of identity theft and fraud. Try to make credit monitoring an integral part of your financial management.
Focusing on Lifestyle over Quality of Life
Your lifestyle is based on your choices and is often influenced by external factors and personal beliefs about what might make you happy. Quality of life is much more subjective; it measures happiness and the enjoyment you derive from life. While lifestyle choices can lead to a better quality of life, choices like buying a house you can't afford, or over-consumption at the expense of your savings, can lead to a quality of life decline. By focusing on your quality of life and what matters to you, you may experience more things that make you happy, some of which might not cost a thing.
Remaining Financially Illiterate
No matter how simple our financial lives seem, several forces may impact our futures. From an ever-expanding tax code, to a growing number of financial products to choose, to new banking and credit rules, it's important to stay informed, so you are better equipped when making financial decisions. While a DIY approach to learning may be a start, you might also want to consider talking to a financial professional. Their experience may help you put financial information in context so you can apply it to your reality, needs, and goals.
---
This content is developed from sources believed to be providing accurate information. The information provided is not written or intended as tax or legal advice and may not be relied on for purposes of avoiding any Federal tax penalties. Individuals are encouraged to seek advice from their own tax or legal counsel. Individuals involved in the estate planning process should work with an estate planning team, including their own personal legal or tax counsel. Neither the information presented nor any opinion expressed constitutes a representation by us of a specific investment or the purchase or sale of any securities. Asset allocation and diversification do not ensure a profit or protect against loss in declining markets. This material was developed and produced by Advisor Websites to provide information on a topic that may be of interest. Copyright 2023 Advisor Websites.